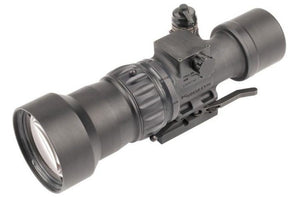 Lead time is currently 12-16 weeks on receipt of order. 
Universal Night Sight Long-Range

The UNS™ LR LP clip-on weapon sight, Type Classified as AN/PVS-30 adds high performance Gen3 White Phosphor light intensification night vision to most rifle and day scopes. This product is appropriate for front line long range rifles. Within the Knight Vision product line this model is currently in production for the US Army for use with the Knight's Armament Company Semi-Automatic Sniper System (SASS), and other long range sniper rifles. The patented technology assures the accuracy of your range-tested daytime optic.
The ideal mount for this optic is a 1.5" optical center mount regardless of tube size.
---
Specifications:
Size: 9.58" (243mm) long, 3.5" (89mm) high, 1.5" (38mm) to optical centerline
Weight:2.9lbs. (1.32kg)
Finish: Flat Black Matte or Desert Sand Brown, Corrosion Resistant
Controls: On/Off Gain Control Knob, Manual Focus Ring
Power: One standard AA battery or One DL123 Battery
Battery Life: AA battery exceeds 24hrs, DL123 battery exceeds 36 hrs
Mount: KAC mount for Quick Attach /Detach to MIL-STD-1913 Rail or equivalent mounting surface
FOV: 9° (Image Intensified) 6° (Thermal)
Waterproof: 3 ft. for 4 hours
Optical Characteristics:
Operating Modes: Clip-On Weapon Sight
Lens Design: 120MM Refractive Telephoto Lens
Magnification: 1X (unity)
Focus Range: 20 Meters to Infinity
Boresight: Patented (US Patent 7,142,357) alignment technology proven in thousands of delivered sniper sights
Image Intensification: White Phosphor ANVIS 18mm Configuration Image Intensified Tubes FOM Restrictions For Export May Apply
Performance Characteristics:
Range: Recognize a Standing Man under Starlight: >800 m
Recognize a Standing Man under 1/4 Moon: >1000 m
Recognize a Vehicle Under Starlight: >1000 m
Recognize a Vehicle under 1/4 Moon: >1500m
Bore Sight: Factory Bore Sight to within .5 MOA of alignment to the day scope point of impact
Boresight Retention: 0.5 MOA over 300 rounds, 300 WIN MAG firing Schedule
Weapons Certification: Tested for use on weapons up to and including .50 caliber rifles
Cheek Weld: Unchanged
Eye Relief: Unchanged
Bullet Impact: Unchanged