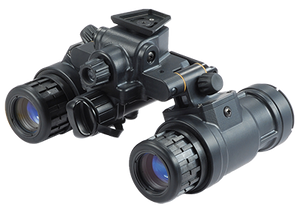 The L3Harris AN/PVS-31A – BNVD is a compact, lightweight, Gen III dual-tube goggle with improved white phosphor tube technology for greater target detection and recognition. Low-light and nighttime maneuvers appear more natural in black and white, with added contrast detail in shapes and shadows providing the operator more visual information for assessment and acquisition. White phosphor provides varying shades of intensity between black and white (over black and green), resulting in better contrast and depth perception.
The PVS-31A was designed to be the lightest, highest performing dual tube night vision device. The goggle with an installed AA Battery weighs in at .99lbs (<450g). The lack of IR illuminator and adjustable diopters were decisions made weighing the cost vs reward for users that neither needed or used both options in the field. The lack of IR illuminator goes un-noticed to most and if one does need prescription diopters (-2 to +2) they are available as an add-on item. The easiest way to eliminate that need is to have prescription eye-protection on while using the PVS-31A. 
The PVS-31A comes with Mil-Grade or Aviation Grade Cosmetics and a 2376+ Guaranteed Figure of Merit (FOM). 
The PVS-31A is available as a full kit including Wilcox G24 mount and battery pack/cable to enhance the operating time of the goggle. This is how we recommend one orders the PVS-31A but they are available without both options if need be. 

Reach out to Jmcdonald@nightosptactical.com for quotes and lead time requests.